Food Poisoning Spikes in the Summer. Avoid These Eight Surprising Culprits.
Monday, June 19, 2023
Bacteria multiply more quickly when it's warmer, causing the incidence of food poisoning to rise dramatically.
Soaring temperatures and perishable food aren't a good combination but you'll find plenty of both at barbecues and picnics all summer long. In addition, preparing and eating food outdoors makes it more difficult to follow proper safe handling practices. Keep your family safe and healthy by learning about the transmission of summertime foodborne illness.
In this article, we have compiled a list of common sources of food poisoning that might surprise you.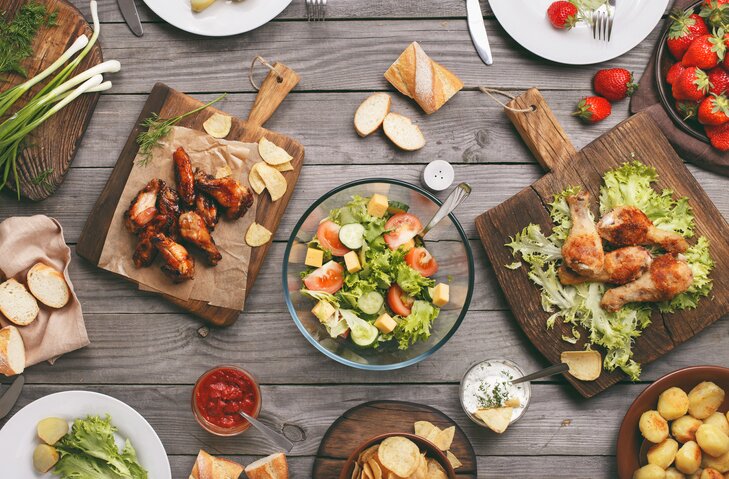 Grilled meats
Improper handling and undercooking of meat such as hamburgers, hot dogs, and chicken can lead to foodborne illnesses. Ensure that all meat is cooked thoroughly, reaching appropriate internal temperatures, and take precautions to avoid cross-contamination. This includes keeping raw and cooked foods separate and washing your hands before, during, and after preparation.
Leafy greens
According to data from the Centers for Disease Control (CDC), leafy vegetables top the list of foodborne illness culprits. One of the most common causes of food poisoning, the human norovirus, thrives on greens like lettuce and spinach. The virus can survive on the leaves for several days, and because those foods are usually consumed raw, there's no opportunity for cooking to kill the pathogens. Wash all leafy greens well and wash your hands after handling them.
Melon
Delicious honeydew, cantaloupe, and watermelon are synonymous with summer. Unfortunately, they can carry disease-causing pathogens like salmonella and Listeria. Because they grow on the ground, they come into contact with more germs. Slicing into a melon with a dirty rind can transfer those germs from the outside to the inside, so it's important to wash them thoroughly, and use a clean knife and cutting board to avoid spreading contaminants. Be sure to refrigerate any cut fruit within an hour of slicing it.
Eggs
Many of us love a sunny-side-up egg over biscuits or hash. Unfortunately, salmonella can turn up in eggs from infected hens. The risk is relatively rare, but if you're feeding small children, the elderly, pregnant women, or anyone with a compromised immune system, cook eggs thoroughly to kill off any dangerous bacteria. Hard-boiled, fried, or thoroughly scrambled eggs are all good options.
Deli meats
Prepackaged or sliced deli meats such as turkey, chicken, ham, and roast beef can be contaminated with Listeria monocytogenes, which can cause severe illness, especially in vulnerable populations. Once lunch meat has been opened, it can safely be stored in the refrigerator for 3-5 days, while unopened prepackaged lunch meat will keep for up to 2 weeks. To prolong the shelf life of your deli meat, store it in the coldest part of the refrigerator as soon as possible after purchase. If the lunchmeat has taken on a brown, gray, or yellowish hue, it should be tossed out. If the appearance seems normal, give the meat a sniff. If it emits a foul or sour odor, the cold cuts are no longer safe to consume.
Potato salad
Many pathogens can grow in improperly handled potato salad. Contrary to popular belief, the problem is not confined to the mayonnaise. The potatoes themselves can carry disease because when vegetables are diced, more surfaces are exposed to potential pathogens.
Purchase potato salad from a clean, reputable vendor, keep it well-chilled, and consume it within three days.
Cucumbers
Contaminated cucumbers have been the source of multiple salmonella outbreaks in recent years. Unlike many vegetables, they're rarely cooked so any pathogens on the peel can easily be ingested. This is true even if you don't end up consuming the peel itself because the knife blade picks up germs from the surface as you slice it and spreads them to edible portions with every cut. Be sure to scrub cucumbers with water and a produce brush whether you're eating the peel or not. Wipe them dry and trim the bruises before you slice and serve.
Ice cream
This go-to summer treat can wreak a lot of havoc. Health experts say that ice cream can carry bacteria like campylobacter, salmonella, E. coli, and listeria, all of which thrive in the summer's warmer temperatures. They recommend not refreezing melted ice cream. In addition, family members should not eat directly from the same ice cream container to prevent any kind of transmittable illness, including food poisoning.
Batchelor Brothers Funeral Services is proud to be your source for helpful resources, useful tools, and compassionate care. If you have questions or if we can be of assistance in any way, please contact us.
About Batchelor Brothers Funeral Services: As a leading African American-owned and operated funeral and cremation organization, Batchelor Brothers Funeral Services has provided a ministry of care to thousands of grieving families. We promise to provide our highest level of distinguished service and respect to families who entrust us to honor their loved ones. With two convenient locations serving North and West Philadelphia, it is always our pleasure to be of service. For more information about our funeral, cremation, memorial, repast, and grief counseling services, please visit batchelorbrothers.com.
Previous Posts
When the weather turns frigid and the days grow short, it's a sure sign that cold and flu season is on the way. Winter is around the corner, signaling the battle cry against seasonal illnesses. It...