How to Sort Through Your Departed Loved One's Belongings and Keep their Memory Alive
Saturday, May 13, 2023
Going through a loved one's belongings after they have passed away is often difficult but you can make the process easier.
Just as there is no right way to grieve, there is no specific time that you should start going through the departed's possessions. In some cases, you may need to clear out their personal effects immediately but that doesn't mean you have to quickly discard these items. It's important to take your time and not rush the process so you don't have regrets down the road.
Here are six tips to help you thoughtfully sort through your loved one's belongings.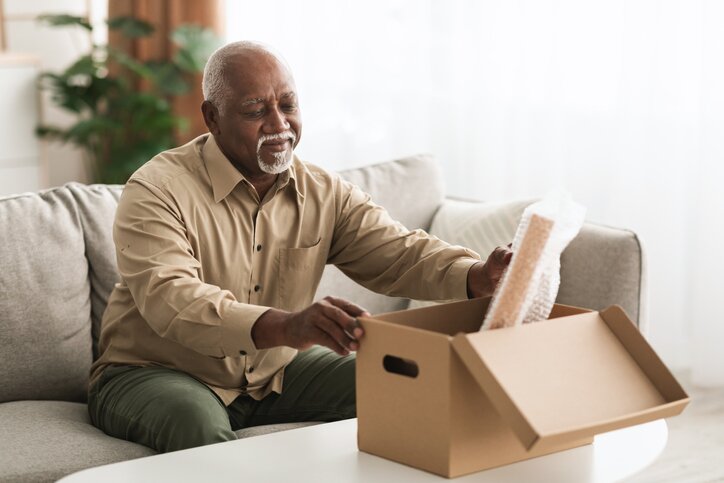 1. Communicate with your family beforehand.
Let family members know when you're ready to begin the sorting and removal process. They may be interested in specific family heirlooms or might feel sentimental about items you think are meaningless or of no value. Reach out to loved ones who can't be present, too. Ask them in advance to be very specific about what they might like to have. Keep in mind that the sorting process causes conflict in some families. Do your best to consider what's driving their behavior and accommodate requests but look after your own needs, too.
2. Organization is essential.
No matter how large or small the premises that's being cleared out, start by creating a system to keep things in order. Experts recommend using large boxes to sort things as you go. You might label them Keep, Donate, Recycle, and Discard, for instance. It may be tempting to put most things in the Keep box, but holding on to every item isn't realistic. You likely don't have the space and there's nothing wrong with donating or recycling things you have no use for. If you can't decide what to do with some items, create another box labeled "TBD" and go through it at a later date.
3. Start with the easy stuff.
Prevent yourself from getting overwhelmed at the outset by sorting through the easiest items first, such as things you are not emotionally attached to or that you are planning to give to someone else. Making good progress at the beginning will put you in a positive mindset for the rest of the cleaning process.
4. Carefully select pieces from collections.
If your loved one was a collector, they may have accumulated a treasure trove of keepsakes. You do not have to keep every item in their collections, especially if they are numerous. Select a few favorite pieces and donate or discard the rest. If the collection is valuable, such as antique jewelry or fine china, get a professional appraisal before you take any action.
5. Protect or destroy sensitive information.
As you sort through your loved one's documents, you will probably come across personal information like financial records and identity documents. Be sure to keep important paperwork such as birth certificates, marriage licenses, Social Security cards, deeds, and property titles and store them in a secure location. Shred and properly dispose of anything you aren't keeping that includes personal information to protect against identity theft.
6. Take pictures of beloved items.
Expect that you will come across things that you would love to keep but for which you don't have adequate space. Take photos of these special items to create a catalog of treasured mementos. When you eventually discard them or give them away, you will still have the pictures so you can always keep the fond memories close to your heart.
At Batchelor Brothers Funeral Services, we understand the challenges that come with loss, including the sorting of your loved one's belongings. If you need additional information or resources, we are here to assist you. Please contact us anytime.
About Batchelor Brothers Funeral Services: As a leading African American-owned and operated funeral and cremation organization, Batchelor Brothers Funeral Services has provided a ministry of care to thousands of grieving families. We promise to provide our highest level of distinguished service and respect to families who entrust us to honor their loved ones. With two convenient locations serving North and West Philadelphia, it is always our pleasure to be of service. For more information about our funeral, cremation, memorial, repast, and grief counseling services, please visit batchelorbrothers.com.
Previous Posts
When returning to work after a loved one's passing, expect to encounter a complex blend of emotions. Grief is a deeply personal journey, and it's important to remember that there is no right or wr...