Buying a Cremation Urn? Five Things You Need to Know
Monday, June 13, 2022
When it comes to cremation urns, there are thousands of styles, sizes, and options available. It can seem overwhelming and you might wonder where to begin the selection process.
In this article, we have compiled some practical advice to guide you through the cremation urn purchase.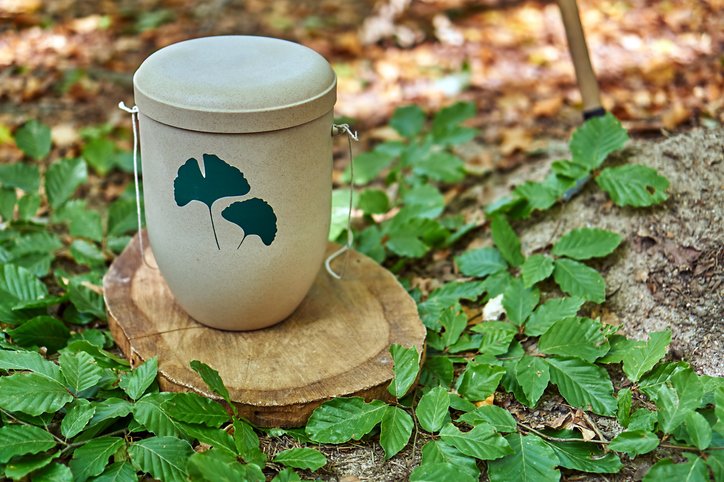 Start by deciding where the urn will reside.
There are many ways to honor the memory of a loved one and your intentions will help determine other aspects of the urn selection. The most common options include:
Display in the home: Many people find comfort in the physical presence of their loved one's ashes. In this situation, a beautiful decorative urn is a great option. Available in metal, ceramic, marble, stone, wood, and glass, you can choose a motif that's appropriate for the departed and suits your décor, as well.
Columbarium niche: Storing the urn in a columbarium allows for a wide selection of types and styles. The most important factors to consider are the dimensions of the niche and the durability of the urn materials.
Interment: If you plan to bury the remains in a plot at a cemetery, choose an urn material that is durable and non-biodegradable. Burial vaults and cremation urns made from robust materials such as cultured marble or granite generally work perfectly. Be sure to contact the cemetery or speak with your funeral director to confirm that the vessel you choose is acceptable.
Water or natural burial: Biodegradable urns made from organic and recycled materials are intended to break down naturally when water or soil is introduced. Urns designed for water burials sink and dissolve quickly. There are also eco-friendly urns designed for land burial, which return the remains to the earth in an environmentally-conscious manner.
Scattering ashes: Scattering urns feature a top opening designed to easily release the cremated remains. Afterward, you may decide to place keepsakes or flowers inside the urn to memorialize your loved one.
Keepsake urns: Also known as sharing urns, these include miniature containers and cremation jewelry. They serve the purpose of storing a small portion of cremation ashes and are a particularly suitable choice when sharing ashes among other family members.
Establish a budget.
Just as cremation urns are available in a broad range of shapes and styles, their prices also vary widely. It is important to note that a smaller budget does not mean you will have to compromise on the look or quality of the urn you choose. For example, if you favor the appearance of an urn made from a precious material such as bronze or gold, you can get a similar look with less expensive materials like pewter or brass.
Determine what size urn is required.
Cremation urns are measured in cubic inches, which refers to the amount of space inside the vessel. As a general rule, at least one cubic inch of space is needed for every pound of body weight prior to cremation. For example, if your loved one weighed 150 pounds before cremation, you will need an urn that is 150 cubic inches or larger. If the urn is for an infant, child, or pet, smaller urns in a variety of suitable sizes are also available.
Give thought to the design elements.
Urn styles, shapes, colors, and themes are virtually limitless. From delicate cloisonné to masculine polished wood to themed motifs such as music, religion, and sports, there is sure to be an urn that's perfect for your needs. Consider your loved one's personality, passions, hobbies, or special interests to guide you in finding a style and color that's reflective of them. Engraving names, dates, or favorite quotes is a great option if you want to add a personalized touch to the urn you select.
Take your time.
With so many options at your disposal, it can be difficult to find just the right urn. Take time to look at different models and materials. If you are still undecided, discuss the options with family or friends. You can always receive the remains in the crematorium's temporary ash box and choose a suitable urn later. The ashes can then be moved into the urn you select. Your funeral provider will be happy to assist you with this transfer.
The urn represents an important part of the memorial for your departed loved one. Whatever style, color, size, or material you choose, ensure that it reflects the personality of the departed and provides comfort to you and your family.
If you have questions or need assistance selecting an appropriate urn for your loved one, please reach out to our caring, helpful funeral professionals. It's always our pleasure to serve you.
About Batchelor Brothers Funeral Services: As a leading African American-owned and operated funeral and cremation organization, Batchelor Brothers Funeral Services has provided a ministry of care to thousands of grieving families. We promise to provide our highest level of distinguished service and respect to families who entrust us to honor their loved ones. With two convenient locations serving North and West Philadelphia, it is always our pleasure to be of service. For more information about our funeral, cremation, memorial, and repast services, please visit batchelorbrothers.com.
Previous Posts
When the weather turns frigid and the days grow short, it's a sure sign that cold and flu season is on the way. Winter is around the corner, signaling the battle cry against seasonal illnesses. It...